Check Out Our Blog
Central Florida Reverse Engineering Software for 3D CAD, CAE, CAM tools and Qualify Computer Aided Inspection
Start Today!

Geomagic Reverse Engineering
Geomagic - Spark®
Geomagic© Spark®, the only 3D application of its kind, seamlessly combines live scan data processing, CAD design, robust 3D point and mesh editing, assembly construction, and 2D drawing creation in one complete package.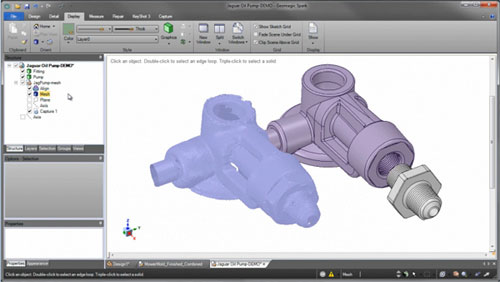 Geomagic Spark features the industry's most powerful scan data processing and editing tools inside of a native, comprehensive direct modeling CAD package. This combination of industry-leading CAD functionality and 3D scanning ushers in a new scan-in-CAD design paradigm that can ultimately refine product development windows, catalyze process efficiency, facilitate collaboration and bring products to market faster.
Geomagic Spark, the new Scan-in-CAD product, is now available for download!
Geomagic has created Geomagic Spark – which is built upon an industry-leading CAD API by SpaceClaim© -- for CAD experts and non-CAD users alike. Using direct modeling tools, Geomagic Spark's intuitive controls and gentle learning curve empower everyone to be a productive CAD designer. Users can scan or import point clouds directly into the application and use the dynamic push/pull toolset to quickly create and edit solid models. Without a complex history tree holding them back, users are also free to alter designs on the fly and change parameters without constraints. Geomagic Spark is customizable via an array of third-party add-ins, and it integrates easily with all major external CAD packages.

Geomagic - Studio
Transform 3D Scan Data into Accurate Digital Models
Designed to handle the most demanding reverse engineering, product design and rapid prototyping challenges, Geomagic Studio transforms 3D scan data and polygon meshes into accurate 3D digital models. A perfect complement to the CAD, CAE and CAM tools you already own, Studio outputs industry standard formats including STL, IGES, STEP and native CAD files.

Comprehensive solution for creating as-built and as-designed models
Do you need to create optimized polygon meshes, watertight surfaces or CAD models from point cloud data? Are you looking to mix freeform and mechanical design? Do you want to create a parametric CAD model of a physical part? Perhaps you want to perform CFD and FEA analysis on as-built parts. Or maybe you want to create a digital archive. With Geomagic Studio, you can do it all.
Close the loop between the digital and physical world
Geomagic Studio gives you complete control over the surfacing process, enabling you to create watertight NURBS models that accurately represent your as-built parts. Automatic one-button surface creation is ideal for quickly creating models. For surfacing similar Objets, templates can be created to speed the process. In addition, Studio offers a comprehensive set of tools for refining patch layouts, comparing the polygon mesh with the surfaced model and more. Finished models can be exported to IGES or STEP.
Capture and reproduce design intent
With its built-in intelligence, Geomagic Studio can quickly extract design intent and create optimized CAD surfaces. Studio automatically identifies analytic surfaces such as planes, cylinders, cones and spheres. Plus it creates the most accurate swept and freeform CAD surfaces. To minimize downstream editing in CAD, constrained surface fitting lets you align surfaces precisely, while automatic surface extension and trimming lets you extend neighboring surfaces to create sharp edges. If you don't need a fully editable model, automatic trimming and stitching lets you quickly create a watertight CAD-ready surface.
Leverage the physical Objets you already have
Why start with a blank screen when you can jumpstart your design process by scanning your clay model, organic Objet or existing physical part. Geomagic Studio supports all of the major 3D scanners, offering direct control via a plug-in for many of them. You can align, merge and register point cloud data. Plus, you can remove outliers and apply noise reduction to further optimize your data.
Create, refine and optimize polygon meshes
With the intuitive set of polygon editing tools including one button automatic mesh repair, interactive sandpaper, curvature sensitive smoothing and hole filling, you can produce high quality surface-ready polygon models even when you have less than perfect data. Smart decimation intelligently preserves the polygons in high curvature areas to create more efficient models for rapid manufacturing and 3D printing.
A perfect extension to your existing CAD system
Parametric exchange provides an intelligent connection between Geomagic Studio and CAD, allowing you to bring truly parametric models into popular CAD systems, including SolidWorks®, Pro/ENGINEER® and Autodesk® Inventor™. By working in tandem with your CAD system, there's no need to learn a new set of tools for trimming and stitching models or introduce different workflows that might affect your standard process.

top
Geomagic - Qualify
Geomagic Qualify enables fast, accurate, graphical comparisons between digital reference models (CAD models or scanned physical models) and as-built parts for first-article inspection, production inspection and supplier quality management. A comprehensive report generator integrates multiple views including 2D and 3D dimensions, cross sections and GD&T callouts, as well as charts and tables in a variety of formats.
Inspect products in a fraction of the time
With Geomagic Qualify, inspection and approval can be completed in hours instead of weeks – accelerating time to market, significantly reducing cost and giving you a measurable competitive advantage. Geomagic Qualify is certified by PTB (Physikalisch-Technische Bundesanstalt) and meets the strict quality standards established by leading automotive and aerospace manufacturers such as General Motors and Pratt & Whitney.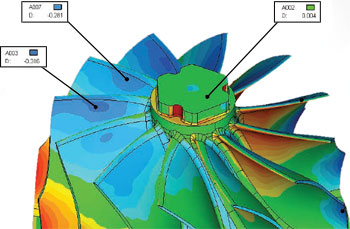 Capture a comprehensive set of data for comparison
Why settle for two dimensional measurements with a traditional CMM or inspection gauge when you can capture every detail of your as-built part? Measuring and comparing the entire part enables you to much more accurately pinpoint trouble spots. For multi-sensor metrology users who want to combine 3D scanning with hard probing, Geomagic Qualify's single interface that lets you quickly capture full 3D scan data and then use the hard probe to measure hard to reach areas or verify measurements of specific features.
Perform in-depth product and process assessment
Take advantage of Geomagic Qualify's sophisticated analysis features to quickly assess out-of-tolerance conditions. 3D Compare creates a full color deviation map comparing the reference to the as-built part – aiding the designer's understanding of the problems and enabling quicker turnaround time for design changes. Additional tools enable measurement of wall thickness, edge comparison, GD&T tolerances, as well as 2D and 3D dimensions.
Automation designer lets you reuse existing inspection workflows
Inevitably, no sooner than you define your inspection workflow, something changes – be it the reference model or some specific measurement you need to add. Geomagic Qualify lets you plan and automate new inspections by adapting existing inspections as well as enabling multiple different automated models inspections using a single reference model. With its drag and drop operations, updated inspection workflows can be created quickly and easily.
Collaborate on the inspection process
Generate detailed reports with numeric inspection data, multiple views, annotated user-defined views, notes and conclusions. Reports can be saved in a variety of formats including PDF, HTML, XLS, VRML and DOC. Use the free Geomagic Review to share inspection results with engineers, suppliers, partners, contractors and customers at other physical locations. Geomagic Review provides collaborative tools that improve communication, minimize the number of design and process changes, and result in faster product development and refinement.
Optional module for turbine engineering and inspection
The optional Geomagic Blade module for Geomagic Qualify provides specialized features for evaluating, testing and qualifying turbine blades, rotors, stators and components. It enables complete surface and feature inspection for verification to ensure parts meet tolerance, functional and performance specifications. It also provides new digital techniques for aligning edge-to-pin contact, automatic dimensioning of blade-specific characteristics and automated twist analysis.

top