Check Out Our Blog
3D Printing for Rapid Prototyping using Objet's Alaris™30 Desktop 3D Printer - Central Florida, Orlando, Seminole County
Orlando 3D Printing for Orlando Rapid Prototyping using Objet's Alaris™30 Desktop 3D Printer
Free Objet Alaris 3D Sample Product
Objet Alaris 3D Printer
3D Printers by Objet - The Alaris™30 Desktop 3D Printer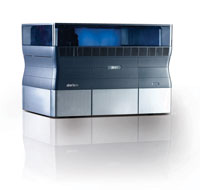 The smallest details create the real design.
The Alaris30 Desktop 3D Printer delivers a unique combination of high-quality, finely detailed printed models available in a compact office-friendly system. Creating smooth surfaces, complex geometries, small moving elements, fine details, stand-out text and whatever else the design demands. Just the solution that companies need to shorten their design cycle and propel their businesses forward, using 3D printers.
The Alaris™30 - bringing 3D printers to your desktop
Based on Objet's proven PolyJet™ Photopolymer Jetting Technology, the Alaris30 creates true-to-life parts of any kind with superb accuracy, for 3D printers. It can build models simply, cost effectively and precisely as you design them.
Models produced on the Alaris30 are smoothly surfaced and finely detailed; the strong model material and highly accurate printing enable thin walls and small moving parts. The models are ideal for painting, functional, fit and form testing, and vacuum forming.
The Alaris30 operates as a network printer, allowing multiple designers in the office to send their files to be printed. The 300 x 200 x 150 mm (11.81 x 7.87 x 5.9in) build tray enables large models or many small parts to be built simultaneously, saving time and cost. The Alaris30 is small and lightweight enough to fit in any office, on a desk or with the stand Objet offers with the printer. It uses sealed 1kg cartridges of resins and the printed models are fully cured on the build tray.


Alaris30 Desktop 3D printer - Key Benefits
The Alaris30 Desktop 3D Printer produces precise details
Excels in printing exceptional detail by combining thin 28µ layers with a very small drop size and a high resolution of 600 x 600 dpi.
Precise parts for functional, fit and form testing
Highly accurate model size and shape (typically 0.1– 0.2 mm)
Complex geometries and small moving elements
Design verification for a wide range of applications
Printing of text and other details that stand-out clearly
The Alaris30 Desktop 3D Printer enables high productivity
Printing more in less time with the Alaris30.
Enables big parts or many small parts to be printed simultaneously due to a build tray size of 300 x 200 x 150mm (11.81 x 7.87 x 5.9in)
Four-cartridge loading delivers up to 36 hours unattended printing
The Alaris30 Desktop 3D Printer is ideally suited for an office environment
Small and lightweight, the Alaris30 is a desktop 3-D printer that is perfect for any office, anywhere.
Fits on a desk or dedicated stand
Network-enabled to support multiple designers
Required no special electricity
The Alaris30 Desktop 3D Printer is intuitive and simple to use
The Alaris30 is designed to be easy to use, with simple printer management and operation.
Turn any 3D CAD file into a part with just a few mouse clicks – Intuitive Objet Studio™ software ensures easy operation
Fast and easy support removal – Just minutes from printing to finished parts
Easy, error-free loading of Model and Support materials